We Do Love and a Whole Bunch of Other Stuff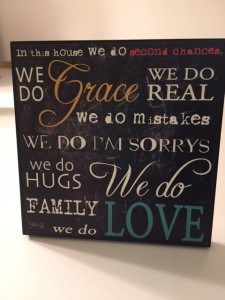 A few years ago my husband and I were browsing a gift shop in Cambria, California, our favorite getaway spot during our marriage. We had just had a simple misunderstanding that morning about something I've totally forgotten now but at the time it seemed important to both of us.
As we walked through the store we both noticed this little wooden plaque at the same time. We looked at one another and nodded, as if to say, "We need that. Let's buy it." And so we did and it's been sitting on a side table in our dining room ever since. It didn't take long for us to redo our "We do's" and keep them going from that time on.
Today, while walking from the dining room to the kitchen I stopped and read the words again from top to bottom. My favorite we do is "We do love" followed by "We do grace" and "We do I'm sorrys."
For me it's "We do love" and "We do grace" that can lead to "We do I'm sorrys." And how glad I am that we lived by these phrases all during Charles' final months when we both needed love and grace and forgiveness to get through the challenge of saying good-bye to one another after 35 years.
Now when I look at the plaque I no longer weep or feel guilty or even sad. I just feel grateful for this simple reminder of what "I want and must do," regardless of what anyone else does.
But thanks be to God! He gives us the victory through our Lord Jesus Christ.
(1 Corinthians 15:57)