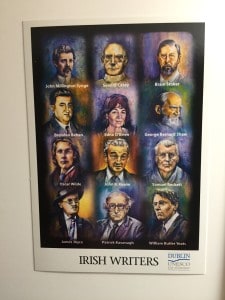 Today as I sit at my desk I'm reflecting on the 40+ years I've enjoyed as a professional writer. My writing ability is a gift from God and I treasure it and thank him for it.
I'm also indebted to these folks on the left, among them George Bernard Shaw, Bram Stoker, Oscar Wilde, Edna O'Brien, Samuel Beckett and other Irish writers who have gone before me.
It was such a pleasure and joy to visit the Dublin Writers Museum when my husband and I were there in person in 2012.
Have you thought about your heritage, your special talent? Who are some of the people who influenced you or pointed you in the direction you took in life?
My maternal grandfather (from Ireland) and my fourth grade teacher were two of the 'influencers' in my life when it came to writing. And the words of Jeremiah, as well:
"Thus says the LORD, the God of Israel, 'Write all the words which I have spoken to you in a book.'" (Jeremiah 30:2).