Happy Birthday, dear Charles–now in heaven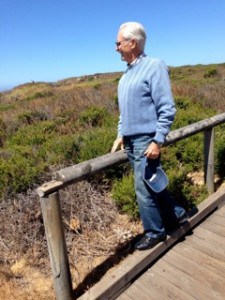 Yesterday, October 11, would have been Charles' 87th birthday, but he flew to heaven in March so we didn't get to celebrate the day with him in person.
I love this photo, taken at one of our favorite get-away spots: Cambria, California along the Central Coast.
We LOVED to walk the trail above the ocean and stop to watch the sea life, the roaring waves and the abundance of greenery all around. Oh how I miss our times there together. Cambria was our place to rest, regroup, and relax. If I go there again it will be a poignant time of remembrance and gratitude–for the man I loved, my partner and husband and friend and protector.
'Every time I think of you, I give thanks to my God.'

Philippians 1:3