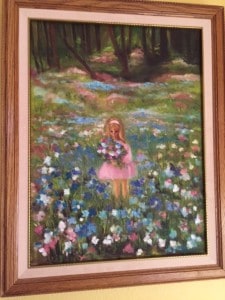 This week while tidying my office I paused in front of this painting hanging behind my desk chair and remembered when I purchased it so many years ago. It's not spectacular in terms of art but I fell in love with it the moment I saw it on a stand in a neighborhood shop. I had to have it because the girl reminded me of myself. Aside from the blond hair I identified with every part of her. She looked sad, lost, uncertain about where she fit in.
I made up a little story about her in my mind and gave it a happy ending. She had gotten lost in the woods while out for a walk one day and was frightened she wouldn't be able to find her way home. But then a shaft of sunlight caught her attention and she followed it out of the woods into a meadow of flowers. The flowers comforted her somehow so she picked a bouquet. Their bright colors and lovely fragrance soothed her racing heart and she carried them home, happy to find her mother waiting for her at the door.
Today when I think of that story, I'm aware of how it had been a theme throughout my growing up years. I spent many years in and out of the woods, taking this path and that one, but so often feeling stuck at an intersection wondering which way to turn.
And then came the day when the shaft of God's light led me home. I felt his presence. (That's another story for another time.) For the first time, despite all the lessons and reading and praying, I knew the Spirit loved me. I have not been the same since–not even one tiny little bit. I am no longer lost or worried or wondering. I know that God lives and loves and that he lives in me and loves me–and he lives in and loves you. When have you felt his love?
The LORD your God is in your midst, a mighty one who will save; he will rejoice over you with gladness; he will quiet you by his love; he will exult over you with loud singing. (Zephaniah 3:17)