Don't Worry! Crack a Smile!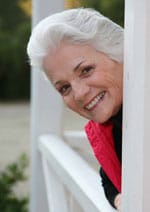 "If they don't allow laughter in heaven, then I don't want to go there." Martin Luther made no bones about it. He enjoyed a good laugh.
American theologian Reinhold Niebuhr went so far as to say, "Humor is a prelude to faith and laughter is the beginning of prayer."
When the elders of Charles Spurgeon's church asked him to tone down his humor in the pulpit, the famous minister was quick to respond: "Gentlemen, if you only knew how much I held back!"
It seems clear that without a smile, a chuckle, and some good belly laughs, life would be pretty difficult. Even the great preachers and writers of the past knew this. We all need to look up and out more often or we'd drown in sorrow with all the sadness and evil around us in the world today.
Liz Curtis Higgs, Patsy Clairemont, and Dennis Swanburg are just a few of the well-known Christian public speakers today who can turn a phrase, tell a story on themselves, or twist a detail, resulting in a roomful of people laughing till their eyes tear up.
People will come from all over the world to hear them speak because they know how to lace hope and help with a large dose of humor. I return from such engagements feeling uplifted, inspired, and encouraged. Life seems just a little easier after I've laughed my socks off! Maybe this has been your experience too.
It's a rare person who couldn't benefit from more light and laughter in life. Here are six ways to live on the sunny side of the street.
Share a funny or embarrassing moment with someone you know and enjoy laughing together. My friend Melissa called to tell me she sprayed her hair with furniture polish. "It fell flat but had a nice shine!" she said.
Laugh at yourself even when you feel like crying or hiding under the covers. I thought I'd misplaced my cell phone only to discover I was using it right then to speak with my neighbor. Oh my!
Pick out a funny film and watch it with a friend or family member. What About Bob? starring Bill Murray is one of my all-time silly favorites and every year during the holidays I have to see Elf with Will Ferrell at least once.
Cheer up sick friends with a book of humorous stories or jokes. Help them discover that as Will Rogers said, "Laughter is the best medicine."
Find humor even in serious situations. A woman whose hair was growing in after chemo treatments said her husband Dan helped her laugh everyday. "We had a short-haired dog at the time because Dan detested dog hair all over the furniture. When my hair started coming in, he clapped me on the back and said, 'Great. Now I have a short-haired wife too!' It did help me keep things in perspective. In fact, I liked my new look so well, I never let my hair grow long again."
Make a list of bible verses that encourage laughter and tack them up on your mirror or bulletin board to review each day. Here are a few from the new NIV.
            "Our mouths were filled with laughter, our tongues with songs of joy" (Ps. 126:2).
               "A cheerful heart is good medicine . . ." (Prov. 17:22).
            "Blessed are you who weep now, for you will laugh" (Luke 6:21)
Barbara Gordon, former editor at Harvest House Publishers edited many humorous books during her career, mine among them. Here's what she has to say about humor and the Christian life. "Jesus was a man of joy! I picture Him laughing and smiling, especially with kids. Humorous books that highlight our wonder—and weaknesses—in living for Him remind me that laughter is a gift, and often the best way to connect with people."