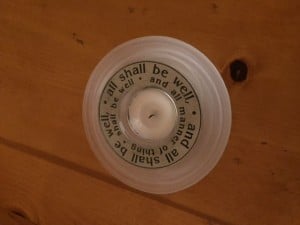 After my husband Charles died I decided to light a candle each day during my morning prayers and readings as a reminder that I am okay in the moment and always will be  if I remember that God lives in me and I in God.
I chose a little candle holder we'd had for some time. It's encircled with the encouraging words of the Christian mystic, Julian of Norwich.
"All shall be well. And all shall be well. And all manner of thing shall be well."
This simple yet profound saying has carried me on many a cloudy day. Why worry about what is to come? I can't change the future. The past is gone. All I can do is live in the present. And for this moment, all is well and will continue to be well as long as I leave the details to God. And that means "all manner of thing"–relationships, finances, weather, health, children, career, politics–you name it.
ALL is well. Isn't that reassuring? Life and death, ups and downs, the sweet and the sour–all of it is well because all of it is part of the divine design. What a relief it is to turn each day over to the ONE who created it and who will finish it to perfection.
"Fear not, for I am with you; be not dismayed, for I am your God; I will strengthen you, I will help you, I will uphold you with my righteous right hand." (Isaiah 41:10 ESV)