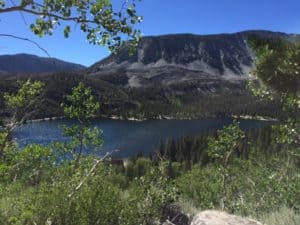 Last week twenty women friends enjoyed hiking, journaling, laughing, talking, eating together and just hanging out in the wilderness of the Sierra Mountains! There's nothing like a group of like-minded gals bonding while in God's great creation. We followed the advice of Ralph Waldo Emerson: "Adopt the pace of nature: her secret is patience."
And as the brook 'babbled' while slipping over the rocks and logs, I listened for her wisdom: "Be and do what you were meant to be and do and you will find contentment."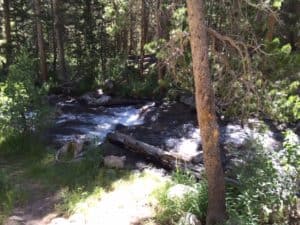 I let go of all my concerns and rested against a tree, under the stars at night, and in my camp chair each afternoon.
A few bears paid us a visit. One cub stole Louise's morning yogurt and ran off with it. Another set his eye on a dog, but the owner chased it away. A beautiful blue jay tried pecking open Kathleen's bag of chips and then flew inside my car while  the back hatch was open. He was mighty glad when I opened all the doors so he could make a hasty exit. Didn't see much of him after that!
We also lived through night temps in the 30s and day temps in the high 80s!
Some years ago Kathleen and I decided we would continue to participate in these trips (sleeping in tents) until we no longer could or wanted to. Then we'd stay in a cabin or motel and join the group for day hikes and evening campfires.
Well, this year was the year of decision. We are 'DONE' with tent camping! Yippee! Many of the women now sleep in RVs or in their trucks or cars but a few of us diehards have persisted in tent camping!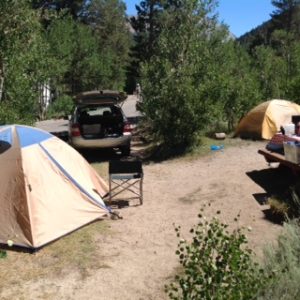 But most of all, we basked in the wonder of the Sierra Mountains and the privilege it is simply to be there.
As a butterfly fluttered over and around us one afternoon, I was reminded that "The butterfly counts not months but moments, and has time enough." (Rabindranath Tagore)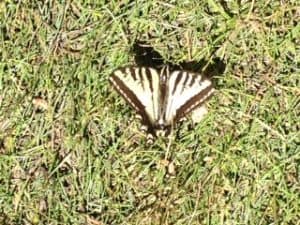 "O LORD, what a variety of things you have made! In wisdom you have made them all. The earth is full of your creatures." (Psalm 104:24 NLT)