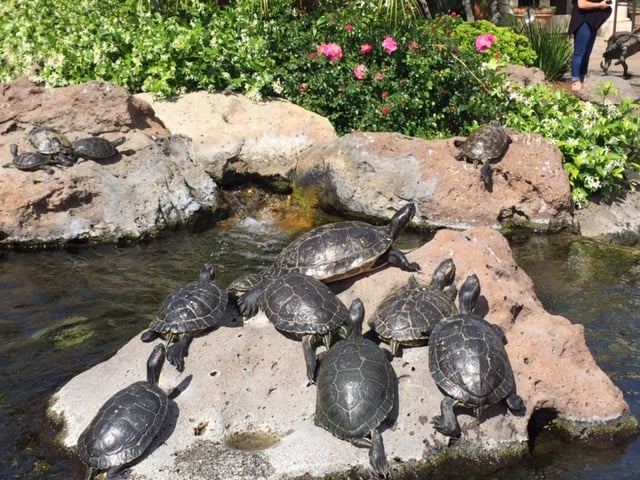 Outside the Marmalade Cafe in Southern California I stopped to enjoy this 'turtle family reunion.' Members of the clan, large and small, young and old, gathered on the rock in the sun and simply basked in its warmth.
When the temp outside rose to the mid-80s, every last one took a dive or at least slipped gracefully into the cool water surrounding the rocky outcropping. I smiled to myself as I imagined their life together–sharing resources, hanging out with one another regardless of age or appearance (although they do look remarkably alike) and simply 'being' as God created them to be. I didn't see any squabble or competitive or aggressive behavior. And when one or two apparently needed some quiet time alone, I saw them inching their way up the side of the pond and hiding behind a little shrub.
They had no idea how much they inspired me–and taught me about human life. Wouldn't our planet be more loving and caring if we did as these simple creatures do every day of their short lives–living and let live, sharing what was available and giving each other space when needed. The babies seemed to thrive as they copied the actions of the adults. Wonderful parenting and grandparenting as far as I could see.
I came home committed to being more like a turtle: moving slowly, taking time to make a decision to move or stay put, resting when fatigued, cooling off when it's too hot, and being content with how God created me.
"Therefore I tell you, do not worry about your life, what you will eat or drink; or about your body, what you will wear. Is not life more than food, and the body more than clothes? Look at the birds of the air; [AND THE TURTLES] they do not sow or reap or store away in barns, and yet your heavenly Father feeds them. Are you not much more valuable than they?" (Matthew 6:25-26)