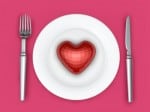 Courtesy: freedigitalphotos.net
My mother-in-law Ada enjoyed telling our family about an incident early in her marriage. Her young husband Charlie, made life difficult for her in the kitchen. "No one can cook like my mother. . ." he often said.
"Can you believe it?" Ada commented. "He actually liked his pork chops cooked until they resembled old shoe leather. I decided to fix him," she added with a glint in her soft blue eyes. "Instead of arguing and defending myself, I enrolled in a cooking school. I was only seventeen when we married so I figured I had a few things to learn. That marked a turning point in our relationship. I became a good cook and he became a grateful eater."
One night after finishing her cooking classes, Ada served pork chops, sauerkraut, and homemade applesauce. Charlie cut into the meat and asked what kind it was. He didn't recognize the plump meat cooked to perfection. He'd been used to the flat fried chop he'd had to chase around the plate with his knife and fork just to get a bite.
"We both laughed at that one," said Ada, "and over the years when I asked what he'd like for dinner he always responded the same way. "How about pork chops–––the way you fix them."
This story prompted me to think about how I respond when God wants to serve me a beautiful meal for my spirit––a cup running over with love, a plateful of peace, a bowl of assurance. Do I receive His gift with thanksgiving and praise, or do I complain about the portion, the size, the texture, and the manner in which He served it?
You will have plenty to eat, until you are full, and you will praise the name
of the LORD your God (Job 2:26).