What Does it Mean to be Truly Kind?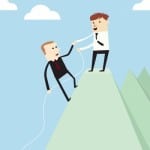 I stood in line at the smoothie shop for a fruit drink, looking at the flavors and the 'boosts' that would give me a lift after a long day. Then I realized what I needed even more was a boost of kindness.
I had been frustrated with a neighbor that day and my husband and I had exchanged a few words I wasn't happy about–even though I've vowed to treat him kindly as his illness progresses. Yes, I needed this fruit of the Spirit that Paul talks about in the Bible. "But the fruit of the Spirit is love, joy, peace, forbearance, kindness, goodness, faithfulness, gentleness and self-control. Against such things there is no law . . . Since we live by the Spirit, let us keep in step with the Spirit" (Galatians 5:22-26).
My mind wandered as I waited for the server to prepare my drink. A boost to my immune system or my energy level would have been welcome on that warm day, but would either one matter if I didn't also boost my spirit with kindness? I had some cleaning up to do—starting with asking God for forgiveness regarding my neighbor and then clearing the air with my husband.
The fruit we eat nourishes our bodies but it is the fruit of the Spirit that nourishes our souls. I don't want to forget that. So what does it mean to be kind? What can we do to express this fruit of the Spirit in tangible and practical ways? Here are some of my thoughts about how to experience and express kindness as a way of life.
Fruitful Living Leads to Kindness
Shortly after I declared to God and myself to be kinder throughout the new year, I spotted a post on Facebook from a friend, asking the question, "If you could choose a word you want to live by in the new year what would it be?" I didn't have to think twice. Kindness. I replied immediately. Put another way, I commit to being friendly, generous, and considerate toward everyone––no matter how I feel about them––throughout the new year and beyond.
Paul spoke with wisdom when he encouraged believers to walk in the fruit of the Spirit and be examples to others. That's my goal. Sometimes, however, it's a challenge. I know this from experience. Recently I attended a wedding. One of the guests is someone whose personality has always prickled me. This time instead of avoiding her, I took a risk and sat down and asked her about her job, her plans for the year, her family. I decided to be kind. Within a few minutes we were laughing and chatting as though we were old friends. Hmmm! It was a good reminder of my commitment to be kind.
Fruitful Giving Leads to Kindness
I noticed that I used to get stuck protecting or defending my behavior instead of looking at what doesn't work between another person and me and what I can do to get it working! Kindness is the answer as I see it and not just in spirit, but in ways that people can see and feel.
A smile or a hug or warm handshake.
A listening ear when someone is struggling with a problem.
A helping hand when you see a neighbor or friend in a bind.
A small gift or short note that says "I love you" or "I'm thinking of you."
There will always be situations and individuals that rankle us, but we can overcome the challenge by expressing simple acts of kindness––which give our lives a 'boost,' as well.
When I'm feeling stuck I find myself turning often to Psalm 32:8. "I will instruct you and teach you in the way you should go…" (Ps. 32:8 NAS). I feel confident the Lord will then lead me right back to Paul's words in Galatians 5:22-26.
Fruitful Sharing Leads to Kindness
My sister came to our house for a visit a few months ago. She's been ill and her husband died last year. Charles and I wanted to pamper her a bit. We made sure she had plenty of time to read, to rest, to relax and to do as much or as little as she wanted. How easy it was to share our home and our life with her. It didn't cost us a thing. In fact, I'm sure we received more than we gave. Sharing is like that. As we give to others, God gives it right back to us. Kindness works both ways.
Today I received an email from my sister with the following message: "I'm telling everyone who asks about my trip how wonderful it was and how caring, attentive, and easy you both were to be with."
I closed my eyes and smiled, thanking God for helping me to do the very thing I said I wanted to do with my life this year—express kindness.
Fruitful Praying Leads to Kindness
For more than twenty years I've benefited from the faithful prayers of a praying friend. She asks for my requests several times a year, sends me some of her drawings and matching Bible verses to encourage me, and drops many kind words into my life by phone or email. If someone were to ask me what kindness looks like, I'd point to Sandy. She not only anticipates what a person needs and wants, she delivers it in small acts of kindness, the most important of which is faithful prayer.
When it comes to kindness, however, no one can outgive the Lord.  He has shown kindness by giving you rain from heaven and crops in their seasons (Acts: 14:17). And he encourages us: Be kind and compassionate to one another, forgiving each other, just as in Christ God forgave you (Ephesians 4:32).