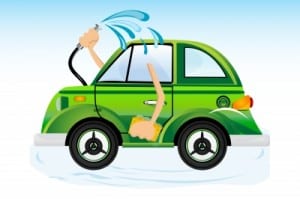 One weekend recently my husband and I washed our cars by hand. We uncoiled the garden hose, pulled out the car-washing soap, and piled clean towels and rags on a nearby bench. Then we set to work. However, I have to say this is not my favorite thing to do even though I always like the result.
"I'd much rather write a book than wash a car," I told Charles, as I spritzed the windows. "This is hard work." I wiped my brow and took sips of water to keep from keeling over in the hot sun.
But as I scrubbed my car, hosed and dried it off, and polished the windows, I thought about how the Lord must clean me up from time to time. He stands me up and hoses me down­­, cleansing me of my mistakes and sins and goof-ups so I am presentable in his sight once again.
If a thorough cleaning is good for my car how much better it is for me.
Cleanse me with hyssop, and I will be clean; wash me, and I will be whiter than snow.
(Psalm 51:7)