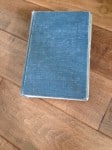 One afternoon I opened the glass doors of the antique bookcase which stands in the living room of our home to dust and rearrange some of the treasures we'd collected over the years. As I was about to close the case and lock it securely, I decided to take a few moments to scan the many beautiful items: bronzed baby shoes, a lovely hand-made quilt my mother-in-law Ada made as a young woman, my father-in-law's razor, the metronome my husband had used when learning to play the piano, a beautiful gold bracelet my father had given me years before, a hand-painted dessert plate passed on to me from my grandmother's collection.
At the back of one shelf I noticed a worn volume, held together by a fading blue binding.  I recognized it immediately as the Webster's Collegiate Dictionary my grandfather had given me for my 11th birthday. I pulled it out, my hands shaking as I held it close. I sniffed the aging paper and was transported immediately to a time over half a century ago when I opened it for the first time and shouted, "Grandpa, thank you. This is just what I wanted."
His blue Irish eyes smiled back in delight. I'm sure the book cost part of his small pension check that week, but I'm also sure he didn't mind.  He was devoted to me, his first grandchild, and wanted the best for me in every way.
A puddle formed in my eyes and I blinked it back as I opened the crumbling volume and saw again his lovely handwriting, still clear and bold. A shiver of joy slid down my spine as I caressed the page that held his inscription.
Dear Karen:
Many happy returns on this your 11th birthday. With the good start you have already attained in the expression of meaningful words, I am confident that with the help of this book, you will soon become a walking dictionary.
Love, Grandpa
I smiled, and then chuckled out loud.  So like Grandpa, I thought.  I could almost hear the lilt of his voice in the words he wrote.  Grandpa knew who I was and what I was meant to do long before I was certain of these things myself. He was right. Here I am more than 60 years later writing, speaking, and mentoring aspiring writers. Words are what my life is about. Words spoken in prayer. Words on a page within the covers of a book. Words of correction and encouragement on a student's manuscript. Words of apology. Words of blessing. Words of praise. Words of complaint. Words of inspiration from a platform. Words of gratitude in my journal. Words of joy each morning as I wake up to a new day.
It would be easier sometimes to march down the hallway of life without so much as a glance to the right or to the left, to what's ahead or to what lays behind. I could shut off my mind to the pain and the sin, the embarrassments and the disappointments. But if I do that I also close off the possibilities and the opportunities to transform my life by renewing (and exercising) my mind. And so I continue on––savoring, sharing, and saluting life with words.
"You were right, Grandpa. I am a walking dictionary."
And the Lord answered me: "Write the vision; make it plain on tablets, so he may run who reads it." (Habakkuk 2:2 the Bible)