Today's blog features a story from my NEW book, When God Answers Your Prayers: Inspiring Stories of How God Comes Through in the Nick of Time (Harvest House Publishers) available in bookstores and on amazon.com and christianbook.com on March 1, 2013.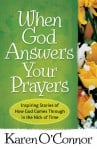 "It's now or never," I muttered as I gazed at the highest point I could see of Mount Whitney, from where I stood below. At 14,497 feet, Whitney is the tallest mountain in the Continental United States and I was going to hike to the top with three women friends, each named Betty, the following day. At age 57 I knew this was my last chance. I couldn't imagine waiting another year.
We had just come off a week-long trek and campout at 10,000 feet so we were acclimated to a high elevation and had built up our stamina. The night before we booked a room at the Dow Villa Hotel in Lone Pine, California, a small town at the foot of the mountain, home to many western movies from the thirties and forties.
After a meal of pizza and salad at a local café we returned to our room to load our backpacks with the essentials for our journey. Just before collapsing on our cots, we did a final inspection, each one holding up the item and calling out "check."
Food and small cook stove.
Spare clothes.
Sun hat, sunglasses, and sunscreen.
Tent, poles, camp mattress and sleeping bag.
Hiking sticks.
Raingear and gloves. Three 'checks' echoed across the room.
Betty S. remained silent as she rummaged through her pack while we waited. Then with a sigh of relief she held up one leg of her waterproof pants. "Check," she said. "All here."
I slipped in and out of sleep all night, fear and excitement tumbling through my stomach. The next morning we arose early, showered (the last time for the next three days), ate a quick breakfast, grabbed our gear and set out on this trip we had organized over a year ago. We had not planned for snow, though we had plenty of clothing just in case.
As we looked at the slope below the summit, there it was—snow packed so thick and so hard it had wiped out any sign of the ninety-two-step switchback trail. We had to plunge our poles and booted feet into the deep drifts, one agonizing step at a time until we reached the ridge below the peak.
Two hours later we hit the narrow trail to the summit and took deep breaths. We were hungry and exhausted but also exhilarated. I spotted the small stone hut at the top, a welcome sight. We trekked up to the enclosure and posed in front of it for a photo with a banner we'd prepared ahead of time. "Karen and the three Betties made it to the top of Mount Whitney."
After a rest and some food we started down, eager to reach our camp ground for the night, before completing the trip to the bottom the following day. The descent was treacherous as we placed one foot in front of the other on a narrow trail between two slopes that would have sent us to our deaths if we missed our footing. Not a word was exchanged!
I prayed––and hoped the others were doing the same. Then without warning a fierce rainstorm swept in, so strong and mighty we were forced to stop on the muddy trail and don our raingear. Within minutes three of us were bundled up, hoods in place and waterproof gloves covering our woolen mittens.
Betty S. screeched! "Where's my jacket?" She ransacked her pack but it was nowhere to be found. She'd brought the pants but failed to make sure the jacket was there too. None of us had a spare to loan her.
Shivering, she hurried ahead, the wind penetrating her face and neck, and the rain soaking her fleece jacket. But then, as if it had dropped from heaven, we spotted something shiny and yellow at the side of the trail. Upon closer inspection, it was a perfectly good yellow rain slicker—the kind kids wear to school and construction workers don during rainy days. I snatched it up and held it out to Betty.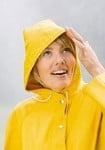 She shook it out, slipped it on, and pulled the hood over her hat. We laughed and cried. A miracle! God had answered my prayer for protection and care as we walked down the trail. I never expected such a thing to appear in such a place. But you can't put anything over on God. When He says He'll provide, He keeps His word—even in the nick of time.
Take the first step in faith. You don't have to see the whole staircase, just take the first step.

Martin Luther King, Jr.