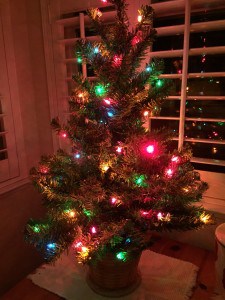 Well, I decided to get into it–the Christmas season, that is. Decorating has always been Charles' domain and this year I dreaded even opening the boxes of lights and ornaments in the garage. But then I realized I didn't want to surrender the holiday to feeling sorry for myself so I took a big breath and pulled out a small pre-lit tree for my kitchen window (that looks out on the street) and set out our little 35-year-old angel (do angels age?), a small tree and candles for the dining room table, and Charles' Santa hat, which he wore during his years at Nordstrom as the greeter at the customer holiday breakfast.
Within minutes, my mood lifted and I was happy to be doing this bit of decorating in his memory and for my own pleasure whether anyone else sees it or not.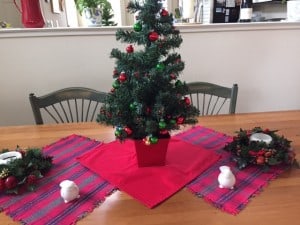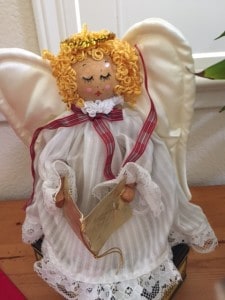 Amazing how simply taking a step in the right direction can propel us to take the next and the next. And if we lag a bit along the way, all we need to do is call on the Lord for a hand up and there he is.
"My purpose is to give you life in all its fullness." (John 10:10)
I'm feeling full again–and look forward to what God has for me in the coming months. There is a time for weeping and a time for laughing, as the Bible reminds us. I'm ready for some laughter as we celebrate the birth of Christ in a couple of weeks. I hope you will join me!