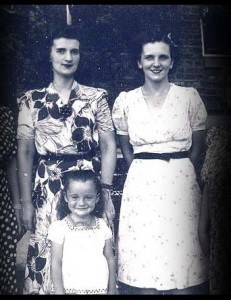 Mother on the right, Aunt Madeline on the left,
and me–age 5.
Offer hospitality to one another without grumbling (1Pet. 4:9).
My mother taught me well!  She was, in my opinion, the queen of hospitality.  No one was overlooked. Mom invited relatives, friends, neighbors, and my father's co-workers into our home for tea, cookies, a meal, conversation, a party, a game of Bridge.  No one was a stranger to her.
I remember my 13th birthday party. She made me a special dress and baked a cake from scratch. We opened our house and yard to twenty boys and girls in my eighth grade class. I still remember what a special evening it was.
When my cousin John announced his engagement, Mother volunteered immediately to host a bridal shower for his fiancé, Carol. And when I wanted to have a 'sleep over' for my close friends, she moved the living room furniture out of the way so we could throw our 'bedrolls' (no sleeping bags in those day) on the floor next to one another.
People from Canada, Italy, Texas, New York, and Florida, to name a few, stayed overnight with our family in our small home in a suburb of Chicago. Mother wanted it that way.  Two priests, who visited us off and on when they came through our part of the country, said Mass in our dining room on many occasions.
During the Christmas season Mom stood over the stove and at the kitchen counter for hours making English toffee, butter horn cookies, and apple pie to give as gifts. She was famous for her sweets!
It was not until Mother died in 2003 that I realized that she was the church in action. From the notes, cards, calls, and in-person stories people shared, I saw what a 'minister' she was, dispensing Jesus' grace, humility, laughter, and hospitality 'round the year and sometimes 'round the clock, as needed.
At her memorial service, my cousin's wife Carol acknowledged Mom for the bridal shower of some twenty-five years before, and a distant relative came up to me with tears in her eyes. "There was no one like Eva," said Hattie. "She always had a smile and an inquiring word about my kids and me. I loved that woman."
And I loved her too–my dear mother. She would have been 100 years old this year. May she rest in peace with gratitude from all who loved her.