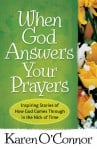 Another story from When God Answers Yours Prayers: Inspiring Stories  of How God Comes Through in the Nick of Time by Karen O'Connor (Harvest House 2013).
Leave a comment and I'll enter your name to win a free copy of my book.
"Therefore everyone who hears these words of mine and puts them into practice is like a wise man who built his house on the rock "(Matthew 7:24).
Home Sweet Home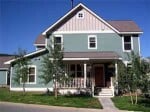 Gloria and her son had lived in a rental house in Pico Rivera, California for six years. They were settled and happy there until one morning the landlord phoned and informed Gloria he was putting the house up for sale the next day. He wanted a quick, sure transaction as soon as possible.
"After promising me over the years that he'd never sell, I was taken by complete surprise," said Gloria. "I felt like the rug had been pulled out from under me. I was a single mother with a young child and no one to rely on to give me advice or help me make tough decisions. If the house sold, we'd have no choice but to move—but where? I had no idea."
For days, Gloria wondered what to do until she felt God nudging her to trust Him for the answer. She prayed for guidance every day. "I kept reminding him about my dire financial situation. Weeks passed without a buyer. Then one night while I was praying, God whispered in my ear, 'Why don't you buy it?'"
Gloria nearly laughed out loud. "I didn't know the first thing about buying a house. And more important, I had absolutely no money. But I listened to that still, small voice and obeyed God every time I felt Him telling me what to do next." With just a little faith in herself, and more in him, she started the proceedings to purchase the house.
"I had always considered myself a strong person," said Gloria, "but now I felt afraid and vulnerable. Even frantic. I couldn't imagine handling all the details on my own. I had a hard time concentrating at work as doubt crept in at every opportunity."
Gloria envisioned her and her son homeless, forced to live on the street. "At times it was difficult to pray without letting negative thoughts creep in. But I kept telling myself to trust the Lord. He would provide for us." She also read positive Scriptures. "One that I still rely on to this day is Jeremiah 32:27: 'I am the Lord, the God of all flesh. Is there anything too hard for me?'"
It was a challenge to let go of doubt, to stop depending on herself, and to leave everything in God's hands. "But I knew that trust and doubt don't mix. I reminded myself of Paul's words to the Philippians: 'But my God shall supply all your need according to His riches in Glory by Christ Jesus' (4:19).'"
At the close of escrow the final costs of $1,050 were due at the bank. "I had $2 in my purse! I got on my knees early that morning and released the whole situation to God. His presence was so overpowering that all my anxieties washed away and I had total peace. It was a humbling experience." She knew then that no matter what happened, God would still take care of her and her son.
"The mailman came earlier than usual that morning and with him an envelope with a check I had been waiting on for a month. Next, my neighbor knocked on my door and said the Lord had impressed on her to loan me $500. Then I remembered I had a small amount of money in my savings account. By the time I reached the bank for my afternoon appointment, I had $77 more than I needed."
Gloria was in such a state of gratitude and praise that she couldn't help but share her miracle with the bank tellers and even the customers in line, each one eager to hear her story.
"Now, many years later, my son has long since grown up and moved on with his life––and I'm still enjoying my home in Pico Rivera. God is good. I talk to him constantly throughout the day," said Gloria. "I often whisper praises while sitting at my desk at work or even when walking through the parking lot. I know he is my true husband and friend and I can depend on him to meet all my needs. At times the wait is longer than I would like it to be, but I keep praying and expecting the answer. I also think back to that experience concerning my house and realize how powerful my God is, and I remember that I can do all things through Christ who strengthens me, as promised in Philippians 4:13. And He can do all things for me—even in the nick of time."
 
Great opportunities to help others seldom come,
but small ones surround us every day.
Sally Koch