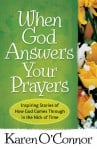 Another story of how God often answers prayers in the nick of time (from Karen's new book published by Harvest House 2013).
Leave a comment and I'll enter your name to win a free copy of my book.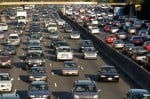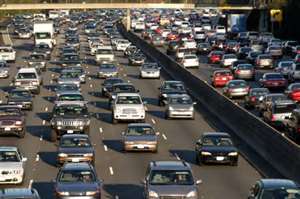 "As I eased onto the freeway one balmy Sunday evening," said Marilyn, "I breathed a sigh of relief. The traffic was flowing smoothly. That meant I'd get to the evening service at church on time. Buying gas and running a few errands had taken all my cash, but I didn't worry. God would provide."
Marilyn turned the stereo to her favorite Christian music station and relaxed. There were no traffic jams. She might even get to church early, allowing her time to maneuver her walker in the sanctuary without a problem.
"I relished the thought of the service ahead," she said. "The prayer time would be a great opportunity to praise God for all His care, and to ask Him for help with my finances. As an invalid on a limited income, any additional expenses created a real challenge. In fact, I needed money right then for another prescription. But where would it come from? I wondered."
Marilyn threw up a prayer. "You know the answer, dear Lord, even if I don't. So I'll trust you to provide."
Just then the traffic slowed down. Marilyn saw red taillights on cars in all four lanes on her side of the freeway. "Not a good sign! Assuming there might be an accident, I turned off the stereo and began praying for anyone who might have been involved. Then I asked God to help me get to church on time."
Soon after, the traffic came to a complete standstill. Marilyn glanced at her watch, realizing it was just about time for services to start. "I was going to miss the music and praise and worship time, also meeting and greeting everyone around me. It didn't seem fair."
After a long wait, the highway patrolmen directed each car onto the shoulder. A large truck had jackknifed and spilled its bales of hay across the entire road. "By the time I reached the church building," said Marilyn, "and parked in my usual handicapped spot by the front door, I was already an hour late. The ushers quietly helped me find the only seat left where I could park my walker without someone tripping over it." Marilyn nodded to the young man beside her, but since the sermon had begun she couldn't introduce herself.
"At the end of the message I greeted my pew mate. He smiled in return and gestured to my walker. 'Do you need help, ma'am?'"
"No, but thank you," said Marilyn. "My walker will get me down the aisle, and I'm parked right by the front door, so I'll do just fine."
The young man hesitated and then spoke up. "Uh, that's not what I mean. Do you need my help financially?"
Marilyn stared at this complete stranger in disbelief. "No, thank you," she replied firmly, eager to get out of the pew as quickly as possible.
"Oh, please don't be embarrassed," he said. "God has put this need on my heart, so I want to obey him and help you." He looked inside his wallet and then smiled wryly. "Don't seem to have much cash myself tonight. But if you have a bank account, I'd like to write you a check."
At that point Marilyn wasn't sure what to do. "Well, okay. Thank you." She did need money and she had asked God for help.
"He pulled out his checkbook, wrote me a check, folded it, and placed it in my hand," said Marilyn. "'God bless you, dear,' he added. Then he slipped into the crowd. By then my curiosity was getting the best of me. I could hardly wait to walk outside and take a look at the amount."
Marilyn's car was one of the last remaining in the parking lot and it was already dark. Her car ceiling light was broken, as well. "How in the world can I look at the check?" she asked herself. "Fortunately, I remembered my trusty flashlight in the glove compartment. I turned it on and held it over the check. I had expected an amount of $5––maybe $10 or $20. Instead, it was for $2000!"
"Oh, thank you, thank you, Jesus!" I shouted. The following day Marilyn cashed the check and it went through without a problem. "With careful budgeting and planning, it helped meet my needs for a long, long time," she said, "and I was able to use part of it to make a thanks offering."
Despite the traffic jam on the freeway, the overturned truck, and her late arrival at church, it was clear to Marilyn that God had used all of these circumstances to provide for her in the nick of time. Truly, his ways are higher than our ways.
Things turn out best for the people who make the best out of the way things turn out.
Art Linkletter