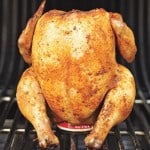 My husband's cousin Harry, a retired minister, loved to share with anyone who'd listen, some of the amazing things that occurred as a result of his early morning conversations with God.
One Thursday, just after Harry finished praying, the words 'barbecued chicken' popped into his mind.  How strange!
"All right I'll order a few and see where this leads."  Harry knew that God was up to something and he was excited to find out what it was.  He reached for the phone to call Redman's Barbecue, where he had placed many orders in the past, when suddenly he remembered that Redman's only barbecued chicken on Tuesdays.  This was a Thursday.  But still the urge to call persisted.
Harry dialed the number, expecting to be told what he already knew. However, the cook surprised him. "As a matter of fact," the man reported, "more chickens arrived than usual, so we cooked some today!"
Harry drove right over to Redman's and bought twelve finger-lickin' cooked birds right off the spit. "The number twelve came to me straight from heaven," he said with a chuckle.  He put the chickens in his car and began driving. He didn't have a plan. But as Harry drove he felt an urge to turn onto this street, or into that driveway, sometimes as far away as two miles.  "I pulled up to whichever house I was drawn to," said Harry, "five in all."
Harry knew God had a plan for those chickens but it was bigger and different than anything Harry could have imagined. Every person he encountered admitted to having prayed for food, for money, for provision.
"At the first house," said Harry, "a man had just come home from the hospital.  He and his wife were in their eighties. They were in need of food that very day."
"Next I met a woman with three children whose husband had left the family.  She had no food and no money.  She was desperate.  I left her $20 and two chickens."
At the third house, Harry delivered a couple of chickens for a man and wife who were  ill.  The husband was a retired school principal with heart and visual problems and his wife was down with the flu.
Harry pulled into another driveway, walked up to the front door and there he met a man who had lost his job just two months before. "I left him a couple of chickens, as well as money for groceries."
And finally, he met a man who was ill but too proud to ask for help. He was grateful for the unexpected meal.
"By the time I drove home, I realized I had no more chickens," said Harry.  "Since my wife Anne was sick I had offered to cook dinner that night––something simple.  When she asked me what we were having, I filled her in on what had happened, then added,  'I planned on barbecue chicken, but they're all gone.'"
Harry did the next best thing. He opened the pantry, looked around, then turned to Anne and said with a chuckle, "Looks like it's Dinty Moore stew and saltine crackers!"
While eating, both had tears in their eyes over how God had used Harry that day.  Anne suggested they stop and give thanks to the Lord.  They joined hands and sang the Doxology.  "Praise God from whom all blessings flow.  Praise him all creatures here below.  Praise him above ye heavenly hosts.  Praise Father, Son, and Holy Ghost."
The couple picked up their forks, and dug into their canned stew––one of the best meals they had shared in a long time!
You might say that Harry Flowers used a few well-chosen barbecued chickens to share the Bread of Life.
Then Jesus declared, "I am the bread of life. Whoever comes to me will never go hungry, and whoever believes in me will never be thirsty 
(John 6:35).