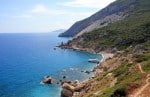 Courtesy: freedigitalphotos.net
When I'm overwhelmed by the dailiness of my life I feel like grabbing my backpack and heading for the mountains. One morning I made arrangements to do just that! I woke up in a snit. Everything seemed wrong. My writing wasn't going well. My husband and I couldn't agree on a decision we had to make. I'd had an upsetting phone call from a friend the night before. I knew a dose of mountain air and some hard exercise with my hiking buddies would clear my mind.
I called the leader and signed up for a trip the following weekend. Eight of us ventured out that bright morning committed to hike to the top of El Cajon Mountain in San Diego County. It was going to be a challenge. It was the highest peak in the area and there were no hiking trails at that time—just a fire road that zigzagged over the brushy terrain like a black ribbon turned loose.
After the first hour, we stopped for a water-and-shade break. One woman gazed at the five-hundred-foot descent in front of us and said with a trace of weariness in her voice, "I don't think I can take another dip. We gain and lose, gain and lose. What's the point? When are we going to get somewhere?"
One of the men looked out to the valley below. "Yes," he said, "but overall, we're going up." Pointing to the thick brush he added, "Soon as we get beyond this stuff, it'll be worth it."
That was enough for me; I was ready to move on. It sounded a lot like my life: I needed to get beyond the "stuff" that kept me tangled up and shortsighted. Later that morning, the same man shouted to those of us coming behind. "Hang in there! You're not going to believe this view. There's a great lookout point ahead."
He was right. The higher we climbed the more of the big picture we saw. Most important to me was our view from the top. Cars crawled along the freeway below. Houses looked like tiny wooden blocks—the kind we bargained for in Monopoly. Swimming pools were no more than bowls of water, and lawns appeared as specks of green sprinkled among concrete and asphalt. I had to laugh. The entire picture could be swallowed up in a flood, turned to ashes in a raging fire, or split open in a moment by an earthquake.
Yet I had focused on the details down there to such a degree that I had lost sight of the big picture. I knew in an instant why I was on that mountain that day: I needed to change my perspective. The higher we climb—whether up El Cajon Mountain or the mountain of life—the more of the big picture we see. We can't help but see it.
The abundant vistas overwhelm the details we create on the flatlands. The more we focus on God, the more of His plan we see and the more of His provision we receive. I came home that day realizing the best part of the trek was having the opportunity to view my life in a new way.
"Neither height nor depth, nor anything else in all creation, will be able to separate us from the love of God that is in Christ Jesus our Lord" (Romans 8:39)—if we make time to look at the big picture. My heart was full that night––full of gratitude.