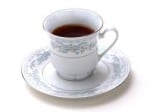 There's nothing like a lovely cup of hot tea!
Brew a pot of mellow mint when you've had a stressful day.  Unload your woes in the company of a loved one.
Sip a glass of Japanese green tea as you read your devotions and browse the morning newspaper or while chatting on the phone.
And put on the kettle for sweet apricot tea to accompany a plate of homemade scones.  Then call a friend and enjoy the treat as you visit on your sunny patio or warm yourselves in front of a cozy evening fire.
And if you're up late talking and laughing, end the time together with a cup of chamomile and you'll sleep like an infant.
There is something about tea that opens the heart.  I remember many times in my life when its soothing warmth made the way for an unexpected friendship.
In the early 70's my family moved to a new house. I was bereft leaving my long-time friends and familiar neighborhood of nearly a decade. But a kind neighbor came to the door one sunny afternoon and welcomed me with a delightful mixture she dubbed "Friendship Tea." We became friends that very day.
On another occasion I met a caring older woman at a women's event at the church I attended. She listened to my sad story about a heartache in my life and the two of us had a good cry over a cup of hot tea. By the time we dried our eyes we were ready to smile. My day didn't seem so bad after all. I had someone to talk to, someone who understood and was willing to be with me in that moment of need.
What is this thing called tea and where did it come from anyway? The origin of tea is a legend at best, since no one knows its true beginning, but the story is so believable, perhaps tea came about just as the story goes.  In ancient China Shen Nung, an early emperor and skilled ruler was also a thinking man with an interest in science and the arts, known for his far-sighted edicts. Among them was the command that all drinking water be boiled to protect the hygiene of his people.
The legend states that on a summer day he and his fellow travelers stopped to rest during a journey to a distant land.  Immediately his servants drew water and boiled it for drinking. Dried leaves from a nearby bush fell into the hot water and turned it brown in color. The Emperor was intrigued by the new liquid, drank some, and enjoyed its refreshing taste. And so, according to legend, tea was created.
As you raise your cup, you're among Americans who drink 140 million cups of tea each day––hot or iced.
Now when I pass down the tea and coffee aisle of my favorite grocery store, I pause and peruse the various labels.   Some have elegant names such as Red Zinger, Jasmine Pearls, African Red Bush, and Silver Needle. Others are more practical.  You know what you're getting and what they're for:  Awake (for the sleepyhead, perhaps?), Calm (for the anxious), and Joy, (for the one who needs a bit of happiness), and how about this?  Joint Comfort (perfect for our aging 'temples,' right?).
When it comes to tea and friendship, the following folks speak for us tea-lovers.
There is no trouble so great or grave that cannot be much diminished by a nice cup of tea. Bernard-Paul Heroux
Come and share a pot of tea; my home is warm and my friendship's free. Emile Barnes

Tea makes a lovely hostess gift, a welcome birthday present, or a sweet surprise for any occasion.