Surround Yourself With Beauty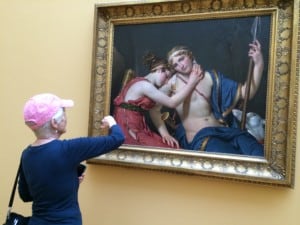 Karen at the Getty Musem in Los Angeles
My husband and I love paintings, especially watercolors. Whenever we travel we visit museums, cathedrals, and galleries. I remember a time we walked the streets of Carmel, California, going into one gallery after another. It was such fun—and it didn't cost a thing. As we paused for a coffee break I remember telling Charles that I had just saved us $20,000.
"You what?" he asked.
"I tallied up the cost of all the paintings I saw that I'd love to have in our home and it came to $20,000."
We laughed and went on our way, having enjoyed several hours of beauty that added something special to our day.
The artwork on our walls at home is primarily copies and prints, though we do have a few originals by a friend of mine. Nonetheless, all are beautiful and the cost of each was within our budget.
We also enjoy flowers. Every spring as new blooms poke out of the soil I feel a ripple of excitement. I know that soon our garden will be filled with vibrant color in various shapes and sizes.
I appreciate another kind of beauty. Order. When things are in place I'm peaceful and happy. It's important to me to make our bed each morning. As I pull up the quilt and spread, and prop the pillows against the wall I'm reminded of the day we bought the bedding and how excited we were to decorate our bedroom with such lovely textures and colors.
For me beauty shows up in myriad ways. Paintings and flowers and a made bed are just three. I also love to take walks in the park, in the mountains, along the shore. God's creation trumps all the rest.
As we take our eyes off the mundane, and rid ourselves of clutter and confusion, there is room and time and space for the experiences and the things that warm our hearts, lift our spirits, and expand our appreciation of the beauty that is life itself. What a beautiful thought!
What experiences and objects are beautiful to you?
He has made everything beautiful in its time. (Ecc. 3:11 the Bible)