For the next three Mondays I'll continue to feature a single story from my new book, When God Answers Your Prayers: Inspiring Stories of How God Comes Through in the Nick of Time (Harvest House, March 2013).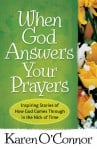 I have six books to give away. Leave a comment and your email address after reading any three of these blogs. I'll put the names of each one in a basket and my husband will draw a winner. I'll post the names the first week in April, contact you for your mailing address, and then send your complimentary copy. Thank you for participating. If you wish to purchase a book you may do so at amazon.com, christianbook.com, your neighborhood book store, or contact me for an autographed copy.
. . . no harm will overtake you, no disaster will come near your tent. For he will command his angels concerning you to guard you in all your ways (Psalm 91:10-11)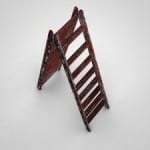 Brenda and her husband Brad worked till sweat ran down their faces, replacing dry, rotted overhead beams in the damp basement of their newly purchased home in Sierra Creek, California. "High atop our ladders with construction belts strapped to our waists, we wrestled with the beams, using crowbars and hammers," said Brenda.
"I wrapped our five-month-old son Patrick warm and tight in blankets as he slept in his car seat on the floor a good distance to the left side of my ladder and a few feet in front of me so I could keep an eye on him while I worked." She kept him far enough away to be safe but close enough so she could get to him if he woke up.
Brad faced Brenda about twenty feet in front of her on his ladder.
"I was confident we could do this job with God's help," said Brenda. "I prayed silently that everything would go well, and that we'd be safe from any harm as we worked."
Brenda remembered glancing at her husband as he loosened another 4×4 eight- foot-long board with his crowbar. "Suddenly, the beam broke loose," she said, "and tumbled down, heading straight toward baby Patrick's head. I was horrified and stunned, realizing our son could be killed just like that."
Brenda hurried down her ladder from high overhead but every step seemed to be in slow motion. Could she possibly reach her child fast enough to save him?
"Instantly I said a prayer of protection, begging God to keep the board from striking my baby." She envisioned God's holy light and love surrounding Patrick as she scrambled down the remaining slats.
At that point, the little guy appeared wide-awake and in a flash, moved his head slightly to the left. The board shaved his right cheek, missing his head by a fraction of an inch, before crashing on the cement floor with a violent thud.
Oblivious to Brad's reaction as he stood on his ladder, Brenda hovered over her child in shock and wonder at how God had just performed a miracle in front of her eyes. There was no way she could have saved her son. Only God could—and did––in the nick of time.
"On wobbly knees and shaking legs, I gave the Lord my undivided, heartfelt thanks for saving my son," said Brenda.
Recalling the incident today, she was in tears. "I feel like a heel for what happened, but Brad and I never imagined such a thing would occur. I thought I had placed Patrick out of harm.
"This incident reaffirmed in me the importance of going beyond my human understanding. Nothing is impossible with our God. I thank him for all his forgiveness, mercy, and love."
™
Keep your fears to yourself, but share your courage with others.

Robert Louis Stevenson