Dear Readers:
For the five Mondays in March I'm going to post funny stories from my next book, My Favorite Senior Moments: From the Funny Side of the Street, to be published by Harvest House on March 15 in both paperback and digital formats. Here's a photo of the cover. See below for the first story.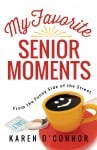 Ruth Who?
Larry bought a new painting for the wall in the master bedroom—a surprise for his wife Midge and a little nudge in the direction of romance. He chose an artistic rendering of a nude woman reclining on a bed. The colors were just right for the room's décor and the choice of subject matter was entirely his own, for a place that was his and his wife's private habitat. No one else was allowed in––until one day at lunch when the couple's four-year-old granddaughter Erica was visiting. Suddenly she put down her soup spoon and piped up, "Grandpa, who's that woman in the picture?"
Larry looked at the calendar on the wall next to the fridge. "I don't know her name. She's probably a model for the flower seed company that made the calendar."
"Not that one, Grandpa," said Erica. "I mean the one in your bedroom. Grandma, did you see it? The lady isn't wearing any clothes."
Larry squirmed and reached for his coffee. "What were you doing in our bedroom?" he asked.
"Just lookin' around. I like to try on Grandma's jewelry." She wrinkled her brow and turned to her grandmother Midge. "Is it a picture of you when you were young and pretty?"
Midge choked on her coffee. "Hmmm. A picture on the wall of our bedroom? Something new, I guess. No, it's not me, honey."
Larry noticed Midge giving him her infamous look––and handing him the last word, as well. He glanced at Erica. "The woman's name is Ruth," he muttered, "like the woman in the Bible."
"Do you mean Ruth or consequences?"
Midge stifled a laugh.
"Something like that." Larry took Erica by the hand. "How about a game of Candyland?" he asked.
"An excellent idea," said Midge. "Meanwhile I'll look in on Ruth."
 Reflection
Many women do noble things,
but you surpass them all.
~ Proverbs 31:29