Smile and Say Something Nice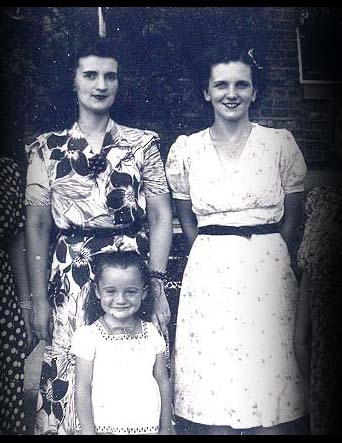 My mother was 'on' me all the time as a child. "Smile and say something nice," she'd prompt. I remember being annoyed. Maybe I didn't feel like smiling or saying something nice! So there.
But here I am (age five) with Mom (on the right). She must have just told me to smile!
Years later I realized she was right. The world is so full of sadness and worry and fear. If a smile and a few words of kindness and encouragement could be a blessing to others, why not be ready to give both to everyone I encounter. Mom had a beautiful smile and she was a good listener as well as a kind encourager. For years now I have been following her example and my life is full.
"My purpose is to give you life in all it fullness." (John 10:10)
Just last week a man at the recovery meeting I go to came up to me. "Every time you smile I feel courageous," he said. I was so taken back I didn't know what to say except "thank you." I gave and he gave in return.
Today I smiled directly at everyone I met at the gym and at the grocery store. I told one of the produce men how much I appreciated his advice on what berries to buy for the best price.
And a gentleman in my gym class looked my way today and instead of brushing past him I stopped and smiled and said, "Hello." When class was over he made a point of smiling at me and even flirting a bit!  🙂 It was nice for both of us. You may remember my writing about him months ago after my husband died and I was not yet smiling much or ready for anyone to 'hit' on me.
Thursdays are my gardener's days to mow and trim. I wave to him and when we meet in person I thank him for keeping my yard looking so healthy and beautiful.
During exercise class last week I spotted a woman who had obviously lost a lot of weight. I told her she looked fabulous. She lit up like a street light and proceeded to tell me how much she's lost and then pulled up her pant leg to show me how slim her legs are becoming.
It takes so little to open up to others. Why did I wait so long? A smile can be worth a book of words. What has been your experience?

"Let my soul smile through my heart and my heart smile through my eyes, that I may scatter rich smiles in sad hearts."
Paramahansa Yogananda