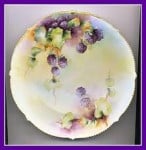 I remember one night sitting over dinner in my parents' apartment.  My chair faced Mother's china cabinet. As I sipped my tea my eyes lingered on the lovely hand-painted dessert plates my grandmother (who had died before I was born) had given to Mom. I remarked how beautiful they were. "I hope some day you'll pass one on to me," I said.
"You can have them right now," Mother responded. With that she popped out of her chair, opened the cabinet, and pulled out all six. "Take the one you like," she said, obviously thrilled that I liked and wanted them, "and then pass out the others to your sisters and daughters." Before I left town that week, I had packed the plates carefully in my suitcase. Now my plate is on a display shelf in our 'family museum,' a glass-front cabinet in our living room.
Mom had entered the downsizing time of her life and was more than happy to divvy up some of her treasures so the next generation could enjoy them. I want to do the same. I've already begun thinking about what to give to each of our children.
I spoke with an attorney about this and she suggested we find out what our sons and daughters specifically want and then make a list of the items and the names of those who want them. A friend of my mother's did something a little different. She decided to whom she wanted to give the family heirlooms and then put a sticker on the bottom or back of each item with the adult child or grandchild's name.
Of course I don't want to strip my home too soon! I hope to be around for another decade or two. But as you downsize, if you find that you simply don't have room for as much stuff as you had in your previous dwelling, now might be an ideal time to pass on some of those treasures.
On the other hand, my husband's aunt took this a bit far. She saved every piece of furniture, trinket, and doo-dad. By the end of her life, the rooms rivaled an antique shop. She had hoped her grandchildren would want to take things off her hands when they married. But no one did. They had their own tastes and ideas of how to decorate their homes.
But any one of us can find a happy mid-way point—holding on to a few treasures that add to our own enjoyment—but also freely giving to our loved ones as they express interest. This is just one more way to enjoy the 'up' side of downsizing.
"Each one must give as he has decided in his heart, not reluctantly or under compulsion, for God loves a cheerful giver" (2 Corinthians 9:7).