Row, Row, Row Your Own Boat!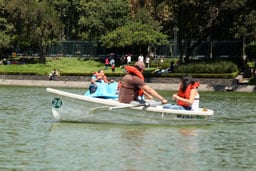 As a kid, one of my favorite summertime activities was sitting on the back of Uncle Bud's  'woody' station wagon. Legs dangling and arms around each other's shoulders, my cousins and I sat in the woody as it bumped and skidded over the dirt and gravel roads to Lake Wauconda–just down the road from the family's summer cottage.  Those were the days before seat belts and air bags. Less safe then, but lots more fun!
Then came the best time of all––going for a ride in Uncle Bud's freshly-painted row boat.  The shiny oars sparkled in the sun as we lowered them into the water, then took turns rowing our way across the lake.
Uncle Bud sat in back, barking orders when we got distracted watching other boaters, or became too giddy. "Pay attention to what you're doing," he shouted. "Row your own boat. That way, no one gets hurt."
I remember giggling when I first heard him say that.  How could we possibly row someone else's boat?  He explained what he meant. "Keep your mind and your eyes on what you're doing. Be responsible for your actions and you'll be fun and have fun." I hadn't thought about that sage advice for fifty years or more–until a few years ago when my husband Charles and I took a cruise to Alaska. The first evening we were seated in the dining room at a table with another married couple, Edie and John.  We enjoyed getting to know them, as they shared details about their family, their marriage of seven years–the second for each of them–and their life in a new home on a lake in Indiana where they had moved the year before. As they talked about the pleasure of lakeside living, I was suddenly reminded of those carefree summers of long ago at Lake Wauconda.
Then the most amazing thing occurred. Edie talked about a situation in their family that was painful and disappointing. I leaned forward, finding it easy to empathize with her, since some of the things she shared were similar to events in my life.
When she finished, she took a sip of water and sat back in silence. I was about to comment, to ask how she managed such a challenge, when she piped up again. "It's not in our boat," she said, smiling.
John looked on, patted her shoulder tenderly, and agreed. "That's right. It's not in our boat. We're learning to take care of what's in our own boat, and leaving other people––even if they are related to us––to take care of what's in theirs."
I felt as though I were listening to Uncle Bud all over again. "Row your own boat." So today, with the eyes of faith, I will row my own boat and support others with prayer and love, in rowing theirs––regardless of what I see with my human eyes.
—