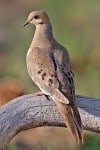 "Look, Charles," I called from the front deck.  "We have company!"
"Hold 'em off," he shouted from the bathroom. "I'm not dressed yet."
"Not a problem for these folks.  They run around in their birthday suits too!"
"Very funny," he said as he wrapped himself in a towel and met me at the doorway.  "Who are you referring to?  I didn't hear anyone knock."
"A bird–a mourning dove," I said," pointing to the delicate creature perched in the ficus tree in the corner.  "Looks like Mama Bird is setting up housekeeping.  I wonder if she'll have twins or maybe triplets.  Isn't this exciting?"
"It'll be cute for a day or two," he said, "but you'll see.  There will be droppings everywhere!  Are you volunteering to clean up after her?"
I hadn't thought about that. But now that he mentioned it, I said, "Okay." How often does a person get to watch a mother bird build a nest, scrap by scrap, string by string, twig by twig, and then lay her eggs and keep them warm till they hatch?
This bird was pretty savvy!  She knew her real estate. She had picked our tree on our deck overlooking beautiful San Diego Bay.  Definitely a room with a view.
For the next several weeks, Charles and I woke up every morning eager to see what Mama was up to next.  Soon a second bird appeared in the tree.  Papa, perhaps?  It appeared so, as the two exchanged places every hour or so round the clock as near as I could tell.  He took a break while she nestled the eggs.  Then she took 'five' while he snuggled them.  The changing of the guard was a precious sight.  Not for a moment were the eggs exposed to the air.  Papa flew in, gently nudged Mama and she then slid off to one side as he moved into place.  The same thing occurred when she returned from her break. They also kept in touch when they were apart.  I heard one or the other 'mourning' softly, "Coo, Coo," just before returning.
Mama also had her priorities in the right place.  She focused on her task—keeping the eggs warm.  She wasn't into housekeeping. In fact, I wondered at times if the nest would make it.  A twig here, a leaf there spilled out the sides, but she didn't stop for repairs.  She stayed with her young.
I couldn't help but think of the times I put housecleaning in front of spending time with my kids!  Oh Mama Bird, I thought, you are here for a purpose–beyond hatching your young.  I'm going to watch you.  You have much to teach me.
And teach me she did! I stayed with her throughout the 'gestation' period and through the growth of her hatchlings.  I watched them leave the nest, walk around our deck, flap their delicate wings, and then one day take off into the world for whatever God had planned for them.
This experience reminded me of words I saw on a plaque that hung in my parents' bedroom.  "There are only two lasting things we can give our children.  One is roots, the other, wings."  (Author Unknown)
By God's grace, I would do the same. Mother birds and human mothers have more in common than I ever would have imagined!
Look at the birds of the air; they do not sow or reap or store away in barns, and yet your heavenly Father feeds them. Are you not much more valuable than they? (Matt. 6:26)