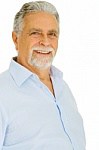 Chuck had a pleasant conversation with his new friend Barney who'd recently turned ninety.
"It would be wonderful to see more of you," Barney said.
Chuck agreed. "We ought to get together for coffee some weekday since we're both retired. How about meeting downtown at Starbucks on a Friday morning?"
The men picked a time and then said good-bye. Chuck was aware of how quickly time was passing. It was important to stay in touch with people he cared about, and Barney was one of them. "We never know how much time we have left to socialize with good friends," he told his wife over dinner that evening.
Later that week, the two men met for coffee and chatted about old times, solved the world's problems, and shared a few corny jokes. As they were ready to part, Barney shared an idea. "Chuck, how about being my guest at a new men's club in town? See if you like it, and if you do, then you can become a member too."
"I might be interested. What club is that?" asked Chuck.
"ROMEO. You'll love it. After speaking with you a few days ago I knew you'd be an ideal recruit."
Chuck felt his stomach clutch. Just the name of the group chilled him. He was long past the age of even imagining himself as a Romeo. "Sorry, Barney," he said with a catch in his voice. He didn't want to offend his friend, but for sure he was not about to risk his reputation by joining such an organization. In fact, he was pretty disappointed to learn that Barney was 'that' kind of man. "This doesn't sound like my kind of club," Chuck added. "I'll just stick to Toastmasters."
Barney broke out laughing—so loud, in fact, that Chuck was taken back by the volume. "I apologize," he said. "I neglected to tell you what the letters stand for."
Chuck wasn't sure he wanted to know. Maybe ignorance really is bliss!
But Barney didn't wait. He belted out the letters and what they stand for. "REALLY OLD MEN EATING OUT!"
Then it was Chuck's turn to laugh out loud. "Count me in," he said. "I'm all about being that kind of Romeo."
 ~ ~ ~
If any of you lacks wisdom, he should ask God, who gives generously to all . .
~ James 1:5