Thank you all for your support, love, and prayers during the last month as I shared and processed my experience of losing Charles and all that it involved. Now I will return to some of the stories in my current book, My Favorite Senior Moments: From the Funny Side of the Street. The book has been released on paperback and digital. You can find it online or in stores.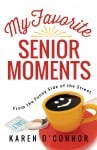 Rosalind invited her family to meet her for lunch at her favorite coffee shop. It would be her treat to celebrate her granddaughter Hannah's fifth birthday. Everyone arrived on time and settled into the large corner booth, dressed up and smiling.
Rosalind's daughter Amanda took one look at her mother and nodded approval. "Mom, you look beautiful. Purple is definitely your color. You should wear it more often."
Donny poked his two cents' worth into the conversation. "Yeah, Grandma. Purple is a good color for you. It matches your hands."
Rosalind looked at the spider veins on her hands and laughed. "Good observation, Donny. And my dress matches my legs too."
"You mean those purple lines on your legs?"
"Uh, yes, those are the ones!"
"Well, at least they go with your dress. But if you wear some other color I think you should stick to pants, don't you?"
"Good idea!"
Grandkids say the cutest–and sometimes the rudest things!
Reflection
For those who exalt themselves will be humbled, and those who humble themselves will be exalted. ~ Matthew 23:12