Permission to Live–and Die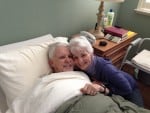 This photo was taken one week before my husband passed to heaven on March 6, 2015.
My darling Charles, spouse and dearest friend, died of the cancer that stole his life here on earth after four months on hospice care. I will miss him so much. But before he died he told me to 'live' even as I gave him my blessing to 'die.' We had prepared for this event for over a year as he declined in health but somehow when it actually occurred I didn't feel prepared at all.
Yet, I feel so grateful that the process went as we prayed for–that we'd be together till his last breath, here in our sweet home that he loved so much, and that he would die in peace after a short struggle.
After he passed I was led to a hidden love letter that my family knew about but I didn't. He asked them to keep it a secret until he was in heaven. Here it is. I weep as I share it here.
"My dearest Karen:
This week, June 19 thru June 24, 2007 you are in Chicago. As usual, I am skulking around, doing something to surprise you. Hopefully, it will be many years before you read these words.
Our granddaughter, Shevawn Torr, was in the play, Wind in the Willows this past December. The character 'Mole' sang these words:
'The day you came into my life
was not like any other day I'd known;
there was magic in the air
a beauty everywhere
and suddenly my world had grown.
There was music and my heart could sing,
there was laughter and from that moment
every day was spring.'
You and I know what we've had the years our Lord  has given us, not too much different from what Mole sang about.
I just needed to tell you one more time . . . 'Oh, how I love you.'
Charles"
Ephesians 4:2 with all humility and gentleness, with patience, bearing with one another in love . . .

Charles was not a perfect man but he was the perfect man for me! Rest in peace, my love.