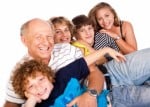 Courtesy: freedigitalphotos.net
You've probably heard the familiar cliché, "If you can't say something nice, don't say anything at all."  I'm not sure it applies to every situation. There are times when we have a legitimate complaint or need to speak the truth with words that may hurt––even offend. But there is also a nugget of gold within this saying. When I read it I'm reminded of the importance of focusing on the 'nice' thing to say, the encouraging word, the uplifting statement.
As men and women grow older, however, many feel the freedom to 'set people straight,' to offer their opinion or advice––whether or not it's wanted––to pass judgment on another's choices, and to gripe about everything from a pain in the shoulder to poor food at the local deli.
How refreshing it would be to take a different path, to focus on praising and encouraging our friends, supporting them as they age and finding ways to make each day better––regardless of the circumstances.
Today, for example, November 11 is Veterans Day–a perfect opportunity to encourage a veteran.  If you know a vet or are related to one (my husband served in the Korean War) consider encouraging that person with a 'Thank you for your service to our country.'
Dr. John Maxwell referred to "encouragement" as "oxygen for the soul."  A human being cannot live without oxygen.  And the soul of a man or woman will 'shrivel' without encouragement.  Each of us needs affirming words, sincere praise, an apology when we've been wounded, constructive feedback, a cheerful smile, personal prayer, and more.  And we shouldn't have to ask for it, nor wait to give it to another until he or she is desperate.  Jesus invites and commands us to be loving and kind. So many people have served us in different ways throughout our lives. I'm just now becoming really conscious of that.
            "Each man (and woman) should give what he has decided in his heart to give, not reluctantly or under compulsion, for God loves a cheerful giver" (2 Cor. 9:7).
Are you the life of the party?  The leader?  The organized one?  Or the quiet individual who brings a balanced outlook to every situation? Whatever style is natural to each of us, God can use us to encourage others and to bless us, as well.
"The good man (and woman) brings good things out of the good stored up in his heart…For out of the overflow of his heart his mouth speaks" (Luke 6:45 NIV).
Perhaps  you'd like to encourage one of your family members or friends during the upcoming holiday and Christmas season with a bit of humor and inspiration. If so, please take a look at my books.  Click on the book tab above. There are links to online book stores. I so appreciate your support and the many kind comments you leave on my blog.