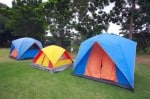 Courtesy: freedigitalphotos.net
My new tent is supposed to be a breeze to open.  "Two-minute set-up. Even a child can put up this tent."  But the instructions didn't say anything about people in their second childhood!
I got to the campground and watched in awe as the other campers swished and whisked and staked and raked.  Next thing I knew I was surrounded by a colorful array of large and small tents but mine was still in the bag.
I pulled it out, flipped it this way and that, and finally it opened. Before it collapsed on the spot, I grabbed the stakes, pounded them into the ground and secured the tent. (It took a lot longer than two minutes, by the way!)
Someone suggested I add the rain fly–just in case the weather turned. I threw it over the top of the tent and staked it as best I could.  I didn't see how it would do much good, though, since it clung so closely to the tent itself.  Oh well…
Later in the week, another asked why I hadn't used the rear tent pole. No wonder the rain fly looked so limp. There was nothing to hold it up.
I looked among my gear, but it wasn't there.  Then I remembered.  When I opened the tent at home, I had set the poles to one side as I read the instructions.  Apparently I repacked the sack but left one pole out by mistake.
Oh Lord, it's tough being a senior. Just when I think I have all my tent pegs and poles in a row, I find out I left one at home–and it's often the very one I need most!