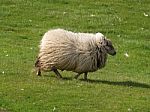 image courtesy of freedigitalphotos.net
I remember a day when I plopped down on the carpet in my office and cried. "Lord, why am I working so hard at this writing career, yet producing few results in terms of sales and income? Should I quit and take up real estate or sales or . . .?"
No answer came that day, but not long after, a woman from the Midwest phoned and thanked me for writing my book, When Spending Takes the Place of Feeling (Thomas Nelson) about women and their money addictions (spending, credit card abuse, gambling, and so on). She told me the book had changed her niece's life. After reading the chapter "It's Not About Money After All," the young woman was inspired to return to Christ and accept the consequences of her actions. She confessed to God, to her family, and to the authorities her secret sin—embezzling funds from her employer for the previous two years. She went to prison for four years.
After hanging up the phone I fell on my knees and cried out my apology to God for having questioned his plan for me as a writer. An image of a lost sheep returning to the fold came to mind. Was the Lord telling me my book had served this purpose? I believe so. I never doubted his plan for me again.
How humbling it's been to realize the truth of the bible verse:
"In their hearts humans plan their course, but the Lord establishes their steps."
Proverbs 16:9 NIV
 Have you ever had a run-in with God when you feel stalled?