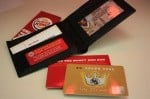 I remember the day my husband and I spent an hour searching for his wallet–in the weeds, along the curb, up and down the street, and all over the parking lot in front of the movie theater where we had watched a film. We returned to the ticket window too, but no one had turned it in.
What a bummer! We noticed it was missing when Charles reached into his back pocket to pay for our snack at a nearby coffee shop. "I know I had it," he said, "where I always keep it."
It was a sad ending to a happy date.  Finally we drove home and left the problem with God. We'd call the credit card companies and apply for a new driver's license the next day.
But then, God came through in a most astounding way.  A phone message was waiting for us when we walked into our bedroom.  A man had called to say he'd found the wallet in the theater by his feet, had taken it home, and phoned right away, knowing the owner would probably be frantic. That's for sure!
Charles returned his call immediately and arranged to meet the man. "I have a  $50 reward for you," Charles said. The man was ecstatic. His wife needed some medical care and the estimate had been $50!
You, O Lord, keep my lamp burning; my God turns my darkness into light. (Psalm 18:28)