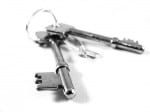 It must have been the heat!  It was over 100 degrees in Riverside, California according to the weather report. I certainly felt it–especially when I got out of my car at the strip mall and went into the nail salon to make an appointment.  Generally, when I get out of my car, I hook my keys to the ring attached to my purse OR I clip it to the lanier around my neck. I'm pleased to say I've never misplaced my car keys in fifty years of driving.
But I was suddenly concerned when I got into my car and couldn't find the key anywhere.  I panicked. I checked the usual places.  It was not around my neck. It was not attached to my purse. Did I drop it in the shop? I wondered as my heart pounded. I was about to get out of the car and retrace my steps, when I calmed down enough to hear a faint humming.
It was coming from the engine–the engine of my car.  The car was in gear.  It was turned on so where was my key?  Why in the ignition–where it belonged.
I tossed up a quick prayer of thanks and pulled out of the driveway, chagrined, but grateful and relieved.
Key Point: Trust in the Lord with all your heart
    and lean not on your own understanding; (Proverbs 3:5)