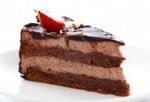 Some years ago, at a ladies' luncheon, I sat next to a woman named Sandra. I was fascinated watching her reach across her untouched salad plate to snip off a bit of chocolate icing from the slice of layer cake at her place. Next thing I knew she was pulling off flakes of the cake itself and soon she had polished off the entire piece before touching even one lettuce leaf. Then she raised her brow and stole a glance at my dessert.
"Didn't your mother teach you to eat your veggies first–and then dessert?" I teased, trying to strike up a conversation.  She turned full-face and let me have it–big time.  "My mother is dead," she shot back.  "I do what I want."
Well, I guess you do!
We continued our meal in silence–salad, dainty rolls with soft butter, beef medallion with whipped potatoes, and sautéed caramel carrots.  To me the entree was worth much more than dessert.  I pushed my cake aside and waited for a pot of mint tea.
The woman eyed my dessert again.  "Aren't you going to eat your cake?" she asked.  "It's heavenly."
"I stay away from desserts," I declared with pride.
"You do?  Why on earth would you do that?"
"I'm not fond of chocolate, and I, well, I've lost my taste for heavy sweets. I prefer fresh fruit or a fruit pie."
I doubt she heard a word I said.  This woman coveted my cake.  She was speaking to me, but her attention was on the delicacy in front of me.
"Would you like to have my cake and eat it too?" I quipped.
"Yes, I would. I was about to ask . . .   Thank you."
She reached over, clutched the plate, swept it in front of my face, and set it down at her place.  She devoured every morsel, every crumb, every dab of frosting.  I was afraid she was going to lick the plate clean.
She heaved a sigh of satisfaction and pushed the plate away.  Soon the server whisked it off and that was that.  "I'd rather have dessert than dinner anytime," she said.
So I noticed.
Food.  We love it. We loathe it. We judge it.  We control it.  We make up rules about it.  We make up lies about it.  And we form opinions about people like Sandra, whose eating habits are different from ours.
I'm guilty of all of the above.  I've been a student of healthy living for thirty years and I know a thing or two about food groups and food groupies. I also know a thing or two about soy milk and seaweed, bran and brown rice.  And so what!
As I grow older, I'm realizing I do not need to be the food police for friends and family.  They are more interested in being with me, and me with them over a bowl of soup or a slice of pie, than hearing my latest foray into the world of grains and greens and their impact on digestion and elimination!
And so I am getting it right–finally–in my older years.  I am paying more attention to the people I'm with than the food they are eating.  I know what's right for me. I don't know what's right for them. I can leave that to God, as well.  My life is so much easier when I stop judging and controlling!
Just desserts!  I'd received my share that day.
Trust in the LORD with all your heart and lean not on your own understanding;  (Proverbs 3:5).