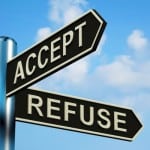 Courtesy: freedigitalphotos.net
I recall a transforming moment in my life about fifteen years ago when I read in Elaine St. James' best-selling book, Living the Simple Life, her timely advice: "In order to simplify, we have to start making choices, sometimes difficult choices." (Simplify Your Life, Hyperion, 1996, page 96)
As I continued reading I realized that like Elaine and her husband Gibbs, my husband Charles and I needed to make some new choices—about the people we socialized with, the groups we attended, the activities we participated in. What really mattered and what didn't? If we wanted to simplify our lives, it was time to let go of a whole bunch of stuff, from worn out relationships to worn out clothing, and to learn to say no (in a polite way) to invitations for events that simply didn't interest us.
That took some doing—but we did it and we're much more peaceful for having done so. I stopped going to Mexico to help in an orphanage. We declined learning how to ski even though our skiing friends thought it a great way to spend a weekend. And we gave up eating out at fancy restaurants. It was costing too much, the portions were too large, and more times than not, we liked our own cooking better than the chef's.
As I read what I just wrote I wonder if I sound selfish and self-absorbed. I hope not, but if I do, I'm going to let it be. I did many of the 'right' things for all the wrong reasons, including trying to please God, look good to others, and feel better about myself.
What I now know is that when I respond with honesty I'm being true to myself and to God and I'm an example to others of the peace and joy that can occur when one realizes one's limitations and expectations of self and others.
Do I still do good in the world? I think so. I write and speak and teach—all of which are true to my core values and talents. I'm involved in the lives of my children and grandchildren, and I knit and hike and cook and garden and share all of it with others.
Now when I'm asked to join this group or that, to attend this event or that one, or to get involved in a cause or a benefit, I stop, check my spirit, whisper a prayer for guidance, and then make an truthful decision.
For now I'm keeping it simple. I'm learning it's okay to say, "No."
How do you handle this topic in your life?
Just say 'yes' and 'no.' When you manipulate words to get your own way, you go wrong (Matthew 5:37 The Message).
I know what it is to be in need, and I know what it is to have plenty. I have learned the secret of being content in any and every situation, whether well fed or hungry, whether living in plenty or in want (Philippians 4:12).