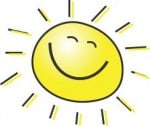 Lord, thank you for showing me how I can give a gift to others in small ways and big, depending on the situation. Not the kind that comes wrapped in colorful paper with a pretty bow. But the kind of present that is usually felt rather than seen. A smile is one way to bless another. And how about making eye contact? I don't always take the time to do that but when I do—what a gift it is to the other person and to me. Sometimes my silence is a blessing, especially when the other person needs to talk or cry or laugh or share. Just being there without a word may be the perfect gift.
And of course one of the most difficult presents to bestow is a sincere apology. Now there's a gift that's in short supply in our culture. How wonderful it would be to let go and simply say, "I apologize for hurting you. Please forgive me." I want to give that present more often. Help me, God, to set aside my pride and admit when I am wrong and to always be ready to give the invisible gifts of the heart.
—
 SPECIAL:
Harvest House publishers' eBook promotion: My book, When God Answers Your Prayers: Inspiring Stories of How God Comes Through in the Nick of Time December 16, 2014 – January 6, 2015 at "sale" price of $3.99 through all eBook distributors—Kindle, Nook, Kobo, Apple, and the Sony Reader.