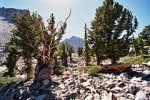 Courtesy: Wikipedia
"Charles, look, there's the turn-off for the White Mountains."  I pointed to the sign on the road that led from Highway 395 in Big Pine, California up to the ancient Bristlecone Pines.  "Let's add a day on our way back from camping and make the trip. This is something I've wanted to do for years."
"Okay, I'm game," he said.
A week later we drove the winding road to the top and parked in front of the ranger station.  The air was thin and chilly at 12,000 feet.  We grabbed our parkas and hats, and panted our way up to the front door.
Minutes later we had a map in hand as we set out to walk the four-mile trail that led through a forest of ancient pines–some nearly 5,000 years old.  One tree in particular, dubbed "Methuselah," was the oldest of all.  Its location is kept secret from tourists, so it won't be abused.  We had fun 'guessing' which one it might be.
We returned to our car and decided then to make the 12-mile ride to the Patriarch Forest where there was another trail through a grove of ancient trees, among the oldest in the world. The unpaved road was rock-strewn, bumpy, and the air was hot and thick with dust.  I felt like a pioneer in a covered wagon!  We had a mission to accomplish and we weren't going to stop until we met our goal.
The further we drove, however, the more anxious I became.  It seemed we'd never arrive. The afternoon sun was already tilting to the west and I feared we wouldn't make it back before it set.  At the same time I also felt exhilarated by the adventure into the unknown.  We pressed on and finally saw a small sign that led to a parking lot beside the grove.
I jumped out of the car, eager to hug a tree in gratitude.  We had made it!  We walked the trail, stopping here and there to comment on the shape or color or texture of these amazing specimen that had been on this soil thousands of years before Jesus was born.  I could hardly put my mind around this truth.  I felt a kind of reverence for each one.  I wanted to congratulate them for 'making' it, for being steadfast, for doing what God made them to do.  They had survived this barren place for thousands of years, yet they were still standing, proof of the stuff they were made of.
Knots, humps, bumps, gnarled branches, chubby trunks abounded.  They were not beautiful like a graceful willow or tall and slender like a stately palm, but they were elegant in their own way.  The ravages of age and weather had given them a beauty I can't describe.
I thought about myself, then, an older woman who had a few humps and bumps of my own.  I had been discounting myself lately, finding fault with the changes my body reflected, and with the aging process that was more evident each year.
Then in a flash of insight I suddenly wept.  How is it that I could see beauty in the trees but not in myself?  Why is getting older a good thing for a tree, but a bad thing for me?  Why do I look in the mirror and bemoan the wrinkles that line my face, but see in the trees a quiet dignity that has nothing to do with shape or age?
We drove back in silence, each of us wrapped in thought. What had begun as a pleasant side-trip turned into a personal retreat. Bubbling conversation gave way to quiet reflection.
Oh Lord, I prayed, how ungrateful of me to judge my worth by what I see.  I know that I am more to you than a lump of aging clay. Thank you for the gifts of wisdom and discernment, for curiosity, for peace, and for your everlasting love.