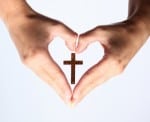 Courtesy: freedigitalphotos.net
Have you ever felt like a child tugging on your mother's pant leg or skirt? You want and need her attention right now. Or maybe it's your father you'd like to speak with. But he seems too busy to interrupt. It's not like that with God. He's never preoccupied with other people or other matters when it comes to each of us. He's all ears! He wants to hear from us about anything and everything. No tugging necessary to get him to turn our way.
I found that out years ago when I was heartsick over a close friend dropping me for a reason I still don't understand. I didn't feel comfortable calling my mother or sisters with this. And it was not the kind of thing I'd tell a neighbor or a stranger. I bore the hurt alone––until I realized that God was not only available to me but was actually eager to listen and counsel me.
"Hey God, got a minute?" I cried out in prayer. He impressed upon my heart that He not only had a minute, He had all the time I needed. That realization alone was enough to heal my hurting heart. I poured out the pain and asked for understanding and empathy––for myself as well as for the other person. I emptied my mind and opened my soul. I told God everything––even the bitter feelings I harbored, the anger I felt against this woman, and the shameful thoughts I carried about her. By the time I took a breath, I felt so much better. I was a child once more, at my Father's feet where I belonged, resting in His wisdom and love. It was then that I was able to again speak only what is helpful and encouraging to others. After unburdening myself with God, I could accept and live by His grace.
Funny how it can take decades–at least for me–to 'get' this truth. How about you?
—
Do not let any unwholesome talk come out of your mouths, but only what is helpful for building others up according to their needs, that it may benefit those who listen (Eph. 4:29).