Here Yesterday. Gone Today.

"Charles, have you seen my white cotton sunhat?"
"No. Where'd you have it last?"
Such questions were becoming routine in our household. If Charles weren't asking me the whereabouts of his sunglasses I was asking him where I put a certain pair of socks or a pillow or now my favorite sunhat. This had never the case with me before, before I turned 60 and then 70 . . .
We were going off for a weekend trip–a nice getaway after the holiday bustle and I wanted my hat to wear when we strolled along the California coast.
I thought about when I'd last worn it–on a walk with my friend one morning. After that Charles and I went grocery shopping and then out for lunch. I remembered having the hat with me in the market and at the restaurant. After that—a dead end.
The search continued for hours until I'd exhausted every possible spot in our house and cars. I could only assume that I'd laid it down on the bench in the restaurant and gone off without it. I checked with the manager, but he hadn't seen it. So—either I didn't leave it there OR someone left with it!
C'est la vie. I had to let it go.  I came across other white hats in boutiques and shops we visited but none could compare to the one I misplaced—in style, comfort, or price. I set aside an old one I didn't like very much and told myself I'd have to 'make do' since I was responsible for the loss.
I did ask the Lord to lead me to it.  The next day I took my suitcase down from the closet shelf to begin packing, and opened a zippered section I rarely use, to see what I might fit in that compartment for the upcoming trip. That would be a good spot for a floppy hat . . . Oh my goodness. There it was–my hat snuggled in the pocket.
I pulled it out and hugged it as tight as I might a long, lost friend. In a way it was exactly that. I was so excited. And then I said a silent prayer of thanks. I put it on immediately and invited my husband to go for a walk with me so I could wear it.
"On one condition," he said with a wrinkled brow.
"And that is?"
"That you put it back in the closet with our other hats–where it belongs. Then you'll know where to find it."
I smooched him good!  And I agreed to his condition. We went for our walk, I in my 'new-found' sunhat and he in his favorite bill cap––and sunglasses. And for the entire New Year I never again lost my sunhat. I cannot, however, say the same for Charles and his sunglasses.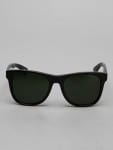 The Lord is not slow in keeping his promise . . .(2 Peter 3:9).