Happy Halloween a Day Early!
I remember as a kid walking up and down the neighborhood all dressed up for Halloween. We were taught in school that we should never say "Trick or Treat" but rather "Halloween Treat." According to our teachers, that was the polite and Christian way of approaching people.
And so we adopted that greeting and it sticks in my mind today–even though I no longer dress up or stretch out my hand with a bag for candy.
Now I just enjoy parading through the streets with my grandchildren and great grandson–who at two-and-a-half is just beginning to get what this holiday is all about.
We start the evening gathering at some friends' house for soup and salad and bread and end the night at another house for cookies and tea. It's become a lovely tradition and I'm grateful to be part of it.
But deeper still is the meaning of this traditional holiday.
The Christian Origins of Halloween
"Halloween is a name that means nothing by itself. It is a contraction of "All Hallows Eve," and it designates the vigil of All Hallows Day, more commonly known today as All Saints Day. (Hallow, as a noun, is an old English word for saint. As a verb, hallow means to make something holy or to honor it as holy.) Both the feast of All Saints Day (November 1) and its vigil (October 31) have been celebrated since the early eighth century, when they were instituted by Pope Gregory III in Rome." (by Scott Richert http://tinyurl.com/yb8ya3gu).
Some parents and grandparents are concerned about the commercialization of this holiday but I see no harm in the tradition of going house to house, enjoying the fun and festivity with friends and family and sharing the origin of this event without giving way to the dark side.
So if you tag along with your grandkids or your young neighbors through the streets of your community, I hope you enjoy the connection it brings among families and friends enjoying a bit of fun together.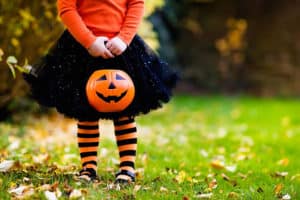 And finally a couple of photos from our neighborhood Halloween party for seniors on Saturday afternoon.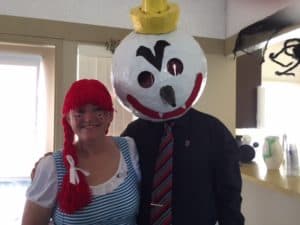 Neighbors who won the costume contest: Wendy from Wendy's Hamburgers and her pal (and husband) Jack in the Box. They made their own outfits and they were sensational.