Grandkids Say The Cutest Things–About Christmas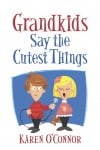 Today I'm sharing a few memorable comments from grandkids regarding Christmas–found in my book published by Harvest House, Grandkids Say the Cutest Things. My thanks to the grandmas who shared these cute sayings with me.
Pride and Joy
Seven-year-old Shelby joined her grandparents for the church Christmas program, which consisted of a living tree made up of 150 choir members, including her grandpa. Afterwards she told everyone around her, "My grandpa is a Christmas tree, and I'm his little ornament."
Splat
"Grandpa, no climbing on ladders. Did you know a man your age fell off the roof while hanging Christmas lights? He lost his balance and splat! He broke a leg and an arm."
Eyes to See

Mimi had extensive eye surgery one year a few days after Christmas. One evening she and her husband babysat their grandchildren while the young parents enjoyed a night out. Three-year-old Grace's mother had prepared the little girl for the 'boo boos' on Mimi's eyes. She didn't want the child to be traumatized when she saw her grandma's bruises.
That night while Grace and Mimi were brushing their teeth before bed, Mimi looked in the mirror and nearly scared herself! "Grace, your Mimi really looks ugly."
Grace stopped brushing, removed her toothbrush from her mouth, and placed her hand over her heart. "Oh, Mimi, you're not ugly. You're like the Grinch who stole Christmas. You have a big heart."
Royalty
Dick and Susan took their children and grandchildren to church for the Christmas program one year. When the first wise man entered the back of the church, Susan pointed him out. "Look at the king."
The six-year-old stood up on her seat and shouted, "Where's the queen?"
™
Kids of all ages say cute things and we love to hear them. They remind us not to take life so seriously and to find a smile in every circumstance. If you'd like to give a gift of humor to someone in your life this Christmas season, please take a look at the link to my book page on my website. http://www.karenoconnor.com/books/ You can order from any of the online sites listed or contact me by email (karen@karenoconnor.com) to purchase an autographed copy. Thanks for your support and encouragement. I hope you have a wonderful Christmas season with your loved ones.