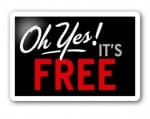 It seems everywhere we look there are 'offers' for free stuff––from a dozen eggs if I spend $25 on groceries to free interest and no sales tax if I purchase a $500 sofa or living room carpeting. I can get free air miles if I fill out an application for a credit card and a free 'second' kitchen gizmo if I pay for the first one and of course the additional shipping charge to mail the 'free' gizmo.  Thanks, but no thanks.
Marketing pitches are cool, clever, and often low-key––so low in fact, that merchants have dug into our pockets and purses faster than a mole can dig a hole. Then the boxes and bags arrive at our front door and we wonder what's in them. Before we slit the tape and plow through the Styrofoam popcorn, we've forgotten what we ordered.
But God's promises for free stuff are eternal and authentic. We don't have to do anything to receive them except open our hands and hearts. Here are just a few of His amazing gifts.
REST: "Come to me, all you who are weary and burdened, and I will give you rest" (Matt. 11:28)
LOVE: "Though the mountains be shaken and the hills be removed, yet my unfailing love for you will not be shaken nor my covenant of peace be removed," says the LORD, who has compassion on you.
SECURITY: "Do not be afraid, little flock, for your Father has been pleased to give you the kingdom" (Luke 12:32).
PARENTING: "I will be a Father to you, and you will be my sons and daughters" (2 Corinthians 6:18).
PEACE: " Peace I leave with you; my peace I give you. " (John 14:27).
ASSURANCE: "Even to your old age and gray hairs I am he, I am he who will sustain you" (Isaiah 46:4).
SALVATION: "I give them eternal life, and they shall never perish; no one will snatch them out of my hand" (John 10:28).
When I consider the promises of God and then look at the lures of the world I am always reminded that only the Lord can give us contentment here, and eternal life hereafter, if we keep on walkin' with Him.
What I have said, that will I bring about; what I have planned, that will I do (Isaiah 46:11).