God Bless My Senior Moments!
It's one of those weeks . . .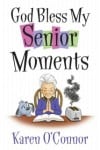 A few friends and I are up to our necks in senior moments. Maybe you can relate to one or two of them.
Sour cream on oatmeal does not taste nearly as good as vanilla yogurt.
I phoned a friend and when she answered I asked to speak to the manager. Oops!
Looked all over the house for my lip balm–about to buy a new one when I reached into the pocket of my bathrobe for a tissue–and yes, there it was.
It helps to turn the iron ON before ironing clothes. No more pressing clothes while watching TV.  COLD PRESS is for olive oil not for shirts.
I locked myself out of the house! Thank heaven the bedroom window is open. Now if I can just climb through without breaking a bone.
Bank tellers don't accept checks for department store payments? Really?
Suntan lotion or sunscreen? There is a difference as I can attest to with my red nose.
What is that book doing on my shelf? It belongs to the public library. Oh no! Three months overdue.
—
Help us feel better. Share one of your senior moments, please! 
"Don't worry—I am with you. Don't be afraid—I am your God. I will make you strong and help you. I will support you with my right hand that brings victory."
(Isaiah 42:10 ERV)