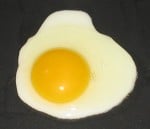 Remember the old song, "The Sunny Side of the Street?" The lyricist invites listeners to grab their coats and hats, put their worries on their doorstep, then step right up to the sunny side of the street––where life can be so sweet.
Of course if you're having a down day, such words can be down right annoying! Life feels like anything but sweet or good at such a time. Yet, even then we have the power to turn our attitude toward gratitude, and as we give thanks for life itself, we might be surprised at how we brighten up and not only see the sunny side again–but even the funny side!
It happened to me last week. I had three or four days in a row when I felt fearful and tearful. My husband was facing an obstacle that I can't control or change. I've done my part––given too much advice, I admit. The rest is up to God. You'd think I'd be happy to turn all my worries over to him, but I wasn't. I felt a little nuts about the whole thing. I wanted to know what's going on behind the scenes and how he'll work it out. Nosy me!
When I got fed up being anxious, I decided to be grateful instead, trusting that all things will work together for good, as God promises. The more I expressed my gratitude for what I could learn from this situation, the lighter and brighter I felt. Soon I was smiling. My heart was calm. And I even laughed out loud at my previous reaction. I was once again walking down the sunny, funny side of the street–regardless of the uncertainty ahead.
From now on when I feel overwhelmed, I'm going to stop, look UP, and live —funny side up.