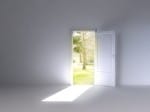 I lay awake, troubled by a decision I had to make the following morning. Such things always seem more difficult at night. I tried to fall asleep, trusting that I'd find my answers in the light of day. It never occurred to me that finding God in the dark was the way out of my dilemma. What a perfect time to ask for guidance and wisdom. Then I remembered a situation when I was scared witless while on a camping trip. As I made my way back to my cabin after a campfire, I relied on a tiny flashlight to illuminate the path, but it wasn't much good under a cloudy sky that hid the moon.
"God, I need more light," I prayed, as I moved forward slowly. "I can only see one step at a time." Right then I realized God was impressing upon me His words from the bible in Isaiah 42:16, "I will lead them in paths they have not known: I will make darkness light before them and crooked things straight." I had read that verse many times before, but it became real to me in that moment. I did not need a bright flashlight nor a full moon to guide me. I had all the light I needed––in Christ Jesus. I knew then, that the answers, like the light, would come as I needed them––one step at a time.
With that memory to encourage me, I turned over and fell asleep. The next morning I faced my problem. Finding God in the dark the night before had helped me discover my answer in the light of the following morning.