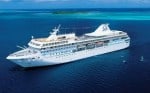 A few years ago my husband Charles and I went on our first cruise. It was the trip of a lifetime for us. We had always wanted to see the Inland Passage of Alaska, and finally we had the money and the time to do it. I especially enjoyed the fact that everything we needed or wanted from a vacation was right there in one place. To take advantage of what was offered, however, we had to walk to specific locations: a piano bar in one room, a stage show in another, an art auction in still another.
As I started writing today's blog about friendship, a picture of that large cruise ship came to mind. I envisioned the many friends I have who contribute to me in diverse ways—each one onboard my life but showing up in different compartments. One brings humor. Another offers wisdom and a listening ear. Some are available for walks or hikes. And still others provide counseling, editing, party advice, dance lessons, decorating help, and gardening tips. And many of the same people simply enjoy, as I do, sharing a good time in each other's company.
As I move around my Friend Ship I see that nearly everything I need and want God has provided through you and other dear friends. You are precious to me. I never want to take you or anyone for granted, or to hold one in higher esteem than another.
As we cruise the waters of life, giving and receiving, I'm going to keep in mind the words of Joseph Addison. "Friendship improves happiness, and abates misery, by doubling our joys and dividing our grief."
That's what you do for me. And I thank you.