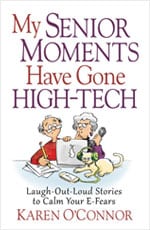 Lester got tired of listening to his old fogey friends complain about things not being as good today as they were back in the day. They didn't like seeing all the young kids playing on cell phones and iPads and computers. "They should be out fishing and climbing trees," said Fred. "Like we did when we were kids. They're going to get fat and lazy," he proclaimed, apparently unaware of his own protruding belly.
"Give it a rest," said Lester, one day in the middle of a game of Chess. "Live and let live," I say. "It's none of our business. In fact, I think it would be great to have one of those thingamajigs. Looks like fun to me. Better than sitting around gossiping about stuff you can't change."
So Lester went out the next day and with the help of a kind salesman at a computer store he bought himself a new laptop and signed up for weekly lessons so he could surprise his friends and family when he learned how to use it.
After a few weeks he was feeling pretty good and quite proud of himself for what he'd accomplished in a short time. Lester invited Fred over to show him what he could do on his new computer.
He'd stored some photos he received by email from his daughter and he set aside a few messages he wanted to read and respond to later on. He opened the picture file and there were the gems he planned to show to Fred. Then he demonstrated how to compose and send an email.
"See, Fred? Easy as pie. You just type in your message and press the 'send' symbol and off it goes."
Fred frowned at the sight of such amazing technology. He scratched his head. "One thing I don't understand."
"What's that?" Lester thought he'd been very clear in demonstrating what to do.
"Where do you put the stamps?"
Lester chuckled. "No stamps. This mail is free."
"Not exactly." Fred burst out laughing. "You have to buy a thousand dollar computer in order to send free mail. Doesn't make any sense to me." Fred tapped his temple. "I'll stick to paper and pen and a forever stamp."
"Know when to email vs. when to meet."
~ Justin Rosenstein