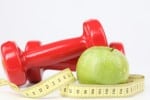 Just mention the word fitness and some people have a fit! In fact, they're fit to be tied. They can't fit into their old clothing. And new clothes aren't a good fit either. But they hate pumping iron. They'd rather sit than walk or swim, and dunkin' donuts is more fun than swigging a smoothie! What's a body to do?
REFORM! Form new habits. Formulate a plan you can live with. Then join the line that forms to the right––right to the gym or the track or the swimming pool or the bicycle lane or the skating arena. Give up fitful thinking. And "just do it." Think only on those things that are lovely and good and noble (Phil 4:8), and soon you'll be seeing those attributes in yourself—like the grandma who started running marathons at age 70 and was still running on her 90th birthday.
There are some, of course, who are FIT with a capital '"F" at any age. You know the kind. They turn your head (and maybe your stomach) when they walk into a room or jog through the park. Their pecs are perfect. Their biceps practically bubble. And their waists are whittled to just the right circumference. But maybe they lack a fit mind, emotional fitness, or a heart fit for love. Or maybe they really are fit in body, mind, and spirit. That's my goal for the new year.
What's yours? The opportunity to lead a life that is balanced and beautiful is available to anyone who wants it.
Wherever you 'fit,' "do what you can, with what you have, where you are," and that's advice fit to live by from U.S. President Theodore Roosevelt.